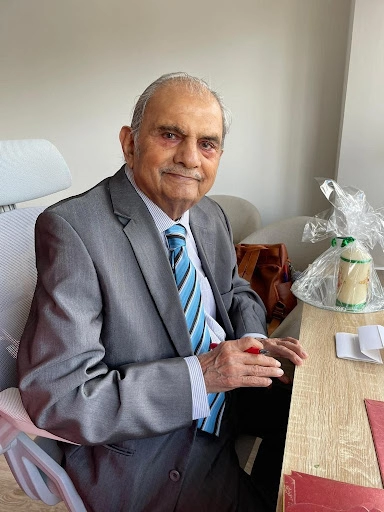 Ishwarlal Tulsidas Joshi
2nd July 1936 – 4th October 2022
It is with heavy hearts that we announce the passing of our beloved father, husband, brother, grandfather and great-grandfather Ishwarlal Tulsidas Joshi, age 86. He passed away peacefully on Tuesday 4th October 2022, surrounded by close family.
Ishwarlalbhai was a devoted husband to Ambaben Joshi and a loving and inspirational father to Meena, Jyoti, Bindu, Piyush, Nandini and Jaimini, a loving brother to Labhuben, Kanchanben, Manjuben, Navin, Ashwin and Dhiren. He was also a beacon of light to many others.
Ishwarlalbhai was a family man at heart and possessed unwavering dedication to his family and friends, by whom he will be greatly missed.
Prathna Sabha.
Prathna Sabha will be held at:
Shree Sanatan Mandir, 84 Weymouth Street, Leicester, LE4 6FQ on Saturday, 8th October 2022 from 14.30 to 16.00 followed by dinner.
Funeral Details.
The family request that due to parking restrictions, please arrive directly at the crematorium at the address below.
Day and date: Friday, 14th October 2022
Time: 2.00 pm (UK Time)
At: Gilrose Crematorium, Groby Road, Leicester. LE3 9QG.
Thereafter, the family request all to come for chaas and rotla at Ram Mandir, 1 Hildyard Road, Leicester, LE4 5GG.
Webcast Details for those who are not able to attend.
Due to the recent emergence of covid-19, please test before you attend.
Jai Shree Krishna and Om Namah Shivai
Om Shanti Om.
Joshi Parivar.