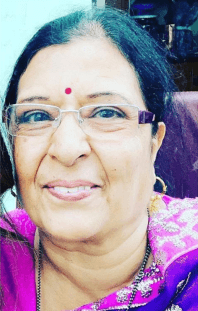 Mradula Kishor Modha
It is with great sadness that we have to inform you of the sudden passing of Mradula Kishor Modha, aged 68, on the afternoon of Sunday 22nd March 2020, in Leicester, UK.
She will be greatly missed by her sons Asit and Amit, daughter-in-laws Jignasha and Neha, granddaughters Gia and Esha, grandson Kishanand and the Modha Family.
Madhuben had a strong faith, devoting her time to her family and God. She will be deeply missed.
The funeral arrangement have now been finalised as follows:
Date: Tuesday 7th April 2020
Time: 2.30pm
At: Great Glen Crematorium, 9 London Rd, Great Glen, Leicester. LE8 9DJ.
The Antim Sanskar (final rites) and prayers for Madhuben will be held at the funeral home.
The family kindly request that relatives and friends arrive directly at the Crematorium, with the service to begin at 2.30pm.
Numbers are limited, however we encourage those who can attend to please do so, we will be practicing social distancing to ensure the safety of all.
Please contact Asit or Amit Modha to make arrangements to attend:
The funeral will available by Live Webcast at the following details on the day:

https://www.wesleymedia.co.uk/webcast-view
Login / Order ID: 21813
Password: nsmtbspc
Please also note: Due to current travel / social distancing restrictions by the UK government, a Prathna Sabha will be held at a date in the future, when safe to do so.
Your understanding in this matter is much appreciated.
Online bhajans
In memory of her life, online bhajans will be held on Saturday 11th April 2020 from 3.30pm to 4.30pm. Please see the following link:
https://www.bardaionline.com/media/2020/04/Bhajans-M.Modha-April-20201.pdf
Our Condolences and Deepest Sympathies go to the family.
Please pass this information to all our friends and relatives who need to know.
Aum Namah Shivai. Aum Shanti Shanti Shanti