We have received the following sad news :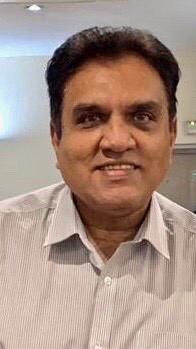 Pareshkumar Narbheshanker Pandit.
It is with a heavy heart that we regret to inform you of the passing of Pareshkumar Narbheshanker Pandit on Saturday 1st February 2020, in Leicester, UK.
A kind hearted soul, who always had a smile on his face, he will be missed greatly as he leaves behind a loving family.
He was the beloved son of Narbheshanker and Nirmala Pandit, and a son in law to Manibhen Mohanlal Joshi.
As an elder brother to Hitesh Pandit, Pratish Pandit and Priya Bapodra, he would always be there for support and guidance.
Chanda, Rakesh, Krupa and Prashiv Pandit are all saddened, having respectively lost a devoted husband and loving father.
Prathna–Sabha.
A Pratna-Sabha is to be held at Shree Hindu Temple and Community Centre, 34 St Barnabas Rd, Leicester LE5 4BD on Thursday 6 February 2020 from 6:30pm-8:30pm.
All who wish to attend are welcome and light refreshments will be available on the day.
The funeral arrangement is as below:
We would like you all to join us to celebrate the life of Pareshbhai Pandit on:
Wednesday February 12th, 2020 at 9:30am – 11:30am, at
Great Glen Crematorium
London Road
Great Glen
LEICESTER
LE8 9DJ
As a family, we have donated to Kidney Care UK and Diabetes UK instead of floral tributes, so please feel free to do the same using the link below:
Kidney Care UK: https://cafdonate.cafonline.org/6708#!/DonationDetails
Diabetes UK: https://donate.diabetes.org.uk/donate/~my-donation?_ga=2.72794576.2128733946.1581341398-131158759.1581341398
ॐ त्र्यम्बकं यजामहे
सुगन्धिं पुष्टिवर्धनम् ।
उर्वारुकमिव बन्धनान्
मृत्योर्मुक्षीय मामृतात् ॥
Our Condolences and Deepest Sympathies go to the family.
Please pass this information to all our friends and relatives who need to know.
Aum Namah Shivai. Aum Shanti Shanti Shanti