We have received the following sad news on the recent passing of Samaj Management Committee Member Rameshbhai Ranchhodbhai Joshi.
His hard work and dedication to OUR Samaj over the years, is much appreciated and he will be greatly missed.
The Samaj wishes his soul rests in eternal peace, and the Almighty guides and looks after his family at this tragic and sad time.
Shraddhanjali Sabha details over the coming weekend are also below.
Funeral arrangement details have also been added below.
Aum Namah Shivai. Aum Shanti Shanti Shanti.
---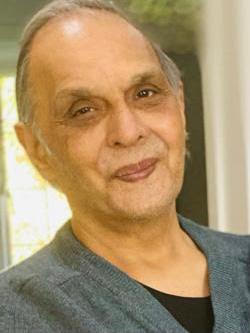 Rameshbhai Ranchhodbhai Joshi
It is with a heavy heart that we announce the passing of our beloved Rameshbhai Ranchhodbhai Joshi, residing in Leicester, England, on Sunday 21st February, 2021 at Glenfield Hospital at the age of 69.
He was blessed in that he was not alone and that his daughter-in-law Surekha was by his side, holding his hand until his last breath.
Rameshbhai was joined in prayer with close family over video call shortly before his passing, where he smiled and laughed and told his family he was at peace and in 'aanand.'
Rameshbhai was a kind and gentle man, whose generosity had no bounds. Born on 4th October 1951 in Nairobi, Kenya, he moved to Leicester in 1969. He touched the lives of all those who had the pleasure of his acquaintance. He was the happiest when performing 'seva' and helping those around him. He was a pillar of strength and wisdom, not only to his family, but also to his community.
Rameshbhai is survived by; his wife Hansaben, son Nayan; son and daughter-in-law Mahesh and Surekha and grand-daughters Ayaana and Sienna; son and daughter in law Kiran and Preeti and grandchildren Aarav and Anjli. He will also be missed by the family dog, Tilly, his 'Prani', who he was incredibly close to and who was very dear to him.
Due to current COVID-19 restrictions, we politely request our family and friends to refrain from visiting our family residence.
Shraddhanjali Sabha for Late Shree Rameshbhai Joshi.
The family will be holding bhajans on Friday 26th, Saturday 27th and Sunday 28th of February between 7pm and 8pm UK time.
Join Zoom Meeting:
Meeting ID: 378 536 5022
Passcode: 0000
Funeral Arrangement.
Due to the overwhelming requests from friends and family, who have expressed their wishes to pay their respects, the family have arranged for the hearse to stop outside the family residence for 10 minutes at approximately 10.10am on Tuesday 2nd March 2021, for anyone who would like to bid their final farewell to Rameshbhai.
We appreciate this is a difficult time where we all need comforting, however we politely ask our friends and family to refrain from making any physical contact with each other and to adhere to strict social distancing guidelines at all times.
The funeral will be available for viewing online using the link below. Please also note that the funeral service can be viewed for up to 12 hours, after which time the link will expire and will be removed from the site.
Funeral Joining Details:
Date: Tuesday 2nd March 2021
Time: 10.55am British Standard Time
The funeral service will last approximately 40 minutes.
Please join via the following link:
https://evt.live/funeralrameshbhaijoshi
Please pass this information to all our friends and relatives who need to know.
Due to current COVID-19 restrictions, only close family will be attending the funeral.
Jai Shree Krishna, Om Sai Ram.
***OM NAMAH SHIVAI. OM SHANTI SHANTI SHANTI***
JAI SHREE KRISHNA FROM THE JOSHI PARIVAR
---
Please pass this information to all our friends and relatives who need to know.
Our Condolences and Deepest Sympathies go to the family.
Aum Namah Shivai. Aum Shanti Shanti Shanti.