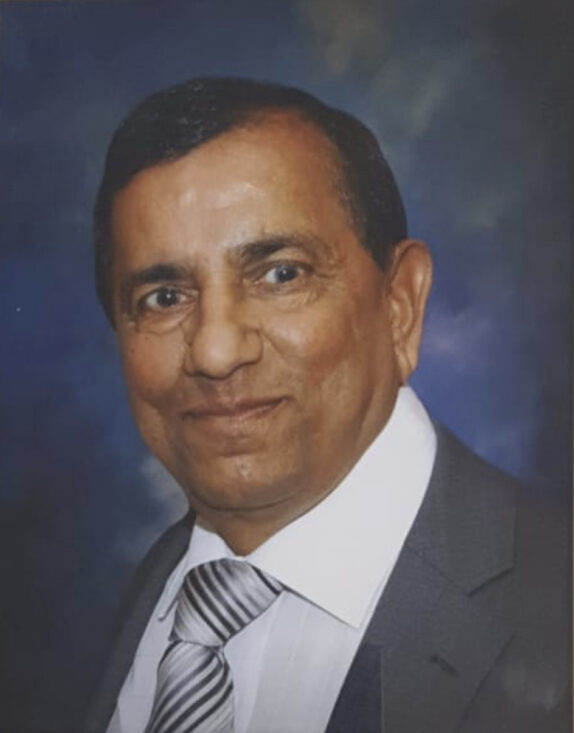 Shree Rameshchandra Lalji Modha
1944 to 2021
Leicester, England
We are saddened to inform you that our beloved father, Rameshchandra Lalji Modha, has passed away from natural causes on Friday 26th of February 2021.
He was aged 76 and is now at peace following a decade long struggle with Parkinson's Disease.
Born in Dar Es Salaam Tanzania, Rameshbhai moved to Leicester in the early 70's, where he lived contently in North Evington & Belgrave areas before moving to Syston for his retirement days where he developed a joy for gardening, making his farsan & mithai and planning his holidays abroad.
He is survived by his wife Mradula, elder Son Raj, Daughter In Law Sejal and Grandson's Gianni & Mario and younger son Kishan.
Rameshbhai will be remembered for his sheer hard work, dedication, kindness and love for his family and his siblings. He was always jovial, caring and forever willing to help others. He will be greatly missed by his family, friends and relatives.
Unfortunately, due to national lockdown & COVID-19 restrictions, we are unable to welcome you to the family home in Melton Mowbray for visiting or paying respects but we cordially invite you to join the funeral which will take place on zoom (details to be announced).
Online Pratna Sabha.
To be held on Sat 6th March – 19:30 UK Time.
Please kindly join Zoom Meeting on link below
https://us02web.zoom.us/j/6174600209?pwd=R3luQnZEYzRzejZzSDJjYVdGWWtzZz09
Zoom Meeting ID: 617 460 0209
Passcode: 515246
Kindly put your audio on mute by default
Funeral Webcast.
To be held on Weds 10th March – 10am UK Time.
https://www.obitus.com/
Username: qimo4135
Password: 409777
If you are unable to watch the funeral live, do not worry, it will be available for replay for 28 days from 12th March onwards.
Jai Shree Krishna, Aum Shree Sai Ram, Om Namah Shivaya.
Raj & Kishan Modha
---
Our Condolences and Deepest Sympathies go to the family.
Please pass this information to all our friends and relatives who need to know.
Aum Namah Shivai. Aum Shanti Shanti Shanti