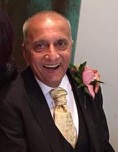 Sri Dhirajlal G Modha
09/11/1942 – 24/12/2019
ॐ नमः॑ शि॒वाय॑
Oṃ Nama'ḥ Šivāya'
Jai Śrī Kṛṣṇa
It is with heavy hearts and great sadness that we regret to inform you Sri Dhirajlal G Modha of Wembley Middlesex passed away on the morning of Tuesday 24th December 2019.
He is survived by his loving wife, Mrs Kiran (Kanchan) Modha, after 54 Years of marriage and his three daughters; Anjali Nutan and Divya.
He was loved dearly by the late Sri Gokaldas G Modha and Mrs Vijyaben Modha and our entire extended family. Mr Dhirajlals' sisters Mrs Mukhtaben Joshi and Mrs Wanitaben Chelavada are also mourning the loss of their beloved brother. We will all miss him dearly and the loss of his presence will be profound.
He was diagnosed with Parkinsons Disease 3 years ago which caused a significant down turn in his health over these last 6 months which led to his untimely passing.
We humbly request our dear friends and family not to visit the residence at the moment as there is hospital furniture throughout the house and there are presently not enough adequate facilities to cope with an influx of people at this time
Kiranben's health is also very fragile and we thank you in advance for understanding and respecting our wishes.
Funeral Arrangements.
We would like you all to join us to celebrate his life on Sunday January 5th, 2019 at 12 noon at the South Chapel at Hendon Crematorium, London.
South Chapel
Hendon Crematorium
Holders Hill Road
Mill Hill
London
NW7 1NB
We would also like you all to share Chaas and Prasaad with us thereafter at 2pm at the Oshwal Ekta Centre on Stag Lane, London.
Oshwal Ekta Centre
366a Stag Lane
London
NW9 9AA
As a family, we have donated to a Parkinson's Disease Charity instead of floral tributes, so please feel free to do the same using the link below:
https://www.parkinsons.org.uk/?gclid=EAIaIQobChMIv8PlrJHZ5gIVhbHtCh0QWg12EAAYASAAEgIu2PD_BwE&gclsrc=aw.ds
A gentle reminder that we also respectfully ask that on the day of the funeral, not to embrace Kiranben as her health and bones are very fragile at the moment and are susceptible to break and we sincerely thank you all for your love, moral support and well wishes during this difficult time.
Please post any messages of condolences below or on the Samaj Bardaionline Facebook page.
From the Modha Family ॐ शान्तिः॒ शान्तिः॒ शान्तिः॑
ॐ त्र्यं॑बकं यजामहे सुग॒न्धिं पु॑ष्टि॒वर्ध॑नम् ।
उ॒र्वा॒रु॒कमि॑व॒ बन्ध॑नान्-मृत्यो॑र्-मुक्षीय॒ मा‌ऽमृत"त्
Oṁ tryambakaṁ yajāmahe sugandhiṁ puṣṭi-vardhanam ǀ
urvārukam-iva bandhanānmṛtyormukṣīya māmṛtā"ta
---
Our Condolences and Deepest Sympathies go to the family.
Please pass this information to all our friends and relatives who need to know.
Aum Namah Shivai. Aum Shanti Shanti Shanti