On Sunday 9th March 2008, a Ashapuramaa / Samudrimaa Haven was held in Birmingham at the Shree Birmingham Pragati Mandal in Sparkbrook, Birmingham UK. The Havan was well attended by Bardai Brahmin Samaj members from all over the UK aswell as Ashapuramaa devotees from other communities. Everyone attending appreciated the well organised event and praised the organisers, Chandrakantbhai and Jyotsnaben Thanki, and Ramanbhai and Prabhaben Bulsara. and the team of volunteers.
The morning started with a pooja ceremony where 100 places were allocated for devotees to do the pooja before the main Havan ceremony. Everyone kept calm as the pooja proceded, and it was good to see that late comers were also allowed to join in the pooja.
The Havan followed with every devotee allowed to give Ahuthi to the Havan in a peaceful and organised maner. Arti followed after the Haven and Maha Prasad was then served. This was followed by a very good Bhajan programme. Everyone attending enjoyed the event.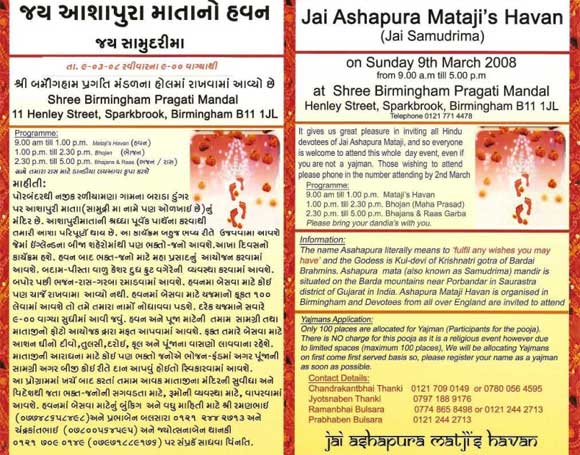 93 Photos