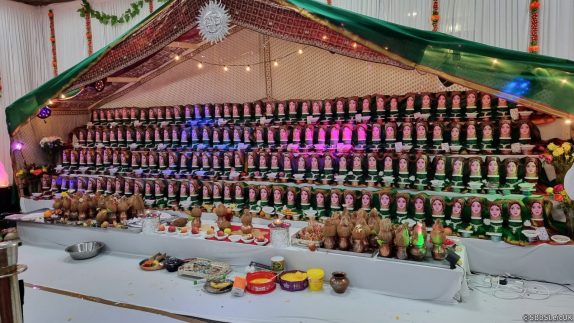 We, (the Samaj) had been invited by Dilip maharaj of Shree Hindu Temple, Leicester for a darshan of 152 Randal Mataji na Lota on Sunday 8th May 2022. This was a public event hosted by the Temple. So Miss Vigna Modha (Hon. Secretary), Mrs Kumudben Pravinchandra Thanki and Mrs Varsha Modha (Hon. President) visited the Temple to witness this unique event. We were greeted by Dilip Maharaj and the Office Staff with courtesy and we congratulated them for their excellent efforts.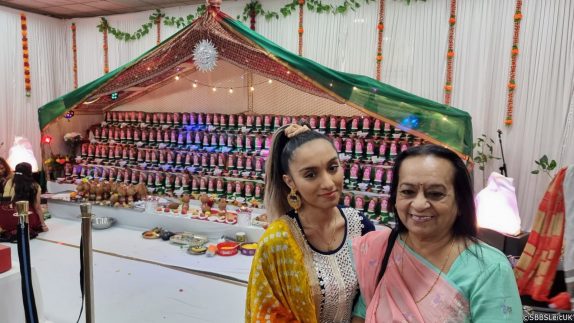 It was the very first time that we had seen such a large 'Mataji no madh' housing 152 Randal mataji na lota which I believe had taken 3 days to build and set up. It was evident that a lot of planning and preparation had taken place to ensure everything looked neat and was placed safely. Each Mataji no loto was beautifully decorated as were all the other deities throughout the Mandir. This was a sponsored event by several yajmaans; well organised with guided pujas, 'goini-rituals', Maha prashad, Mataji na garba, Aarti and Vidai – all by sponsors.
VIDEO
It was a beautiful, sunny, hot day and dining was indoors and outdoors with fast moving queues for the maha prashad of Kheer, Puri, Chana-batetanu shaak, magh, daal, bhaat, chhash. It was a community event and everyone was able to volunteer their sewa. This is where we met one of our samaj members, Mrs Rupalben Mitesh Thanki making puris during lunch. We also met some other Samaj members who had come to pay their respects. The general atmosphere was that of calmness, positivity and unity.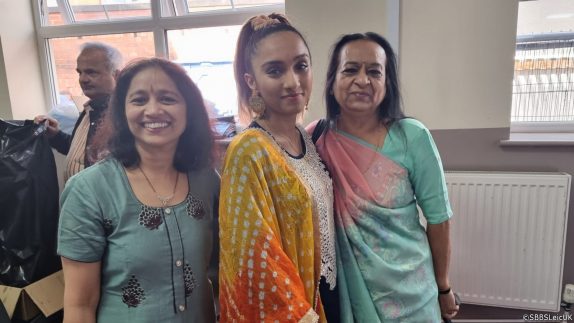 We thank the Hindu Temple for organising this spectacular and unique event which I believe is the biggest in Leicester, yet and all the yajmaans for their warm welcome. I would definitely recommend visiting the Temple for this darshan whenever it is hosted again.
For details of the next Randal mataji's event and sponsorship enquiries, please visit the Shree Hindu Temple's website or contact their office.
Jai Mataji!
Article composed by Varsha Modha with input from others who attended the event 8.5.22
Photos and videos were taken by Varsha & Vigna Modha for the gallery.