Date Saturday 26.3.22. Time: 7am – 2pm.
Host: Shree Hindu Temple, St Barnabas Road, Leicester.
Maharaj: Dilipbhai Joshi + assistant.
Samaj attendees: 39 members attended (97 RSVP'ed – thank you. Yes:26; No:71).
Yajmaan for our Samaj: Pravin K Dave, Bharti P Dave for Trikamjibapu's murti.
See the Photo Album for this event by clicking here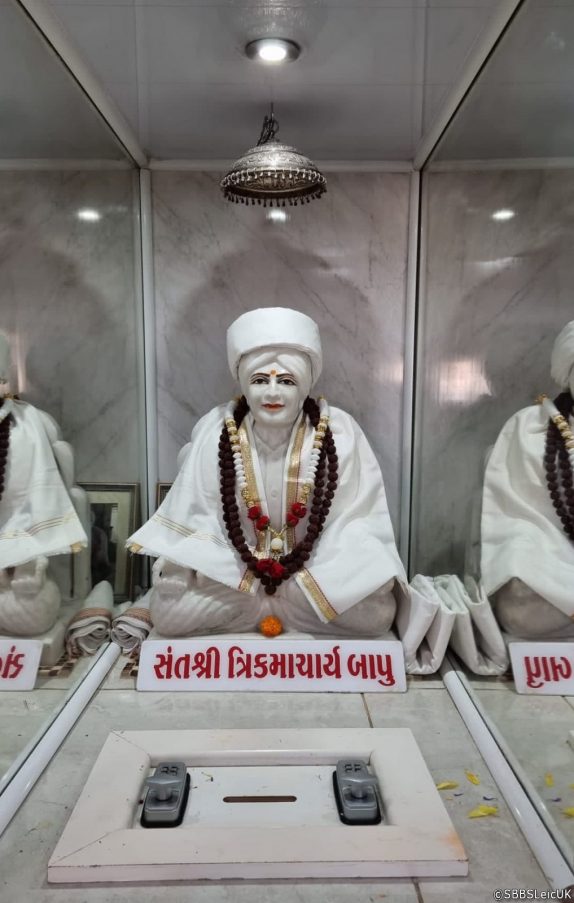 Whilst the Samaj had sponsored the murti pujan of our Trikamjibapu, the Maharaj asked our members to do pujas of other murtis to fill in for those yajmaans who could not make it. The additional yajmaans were selected following a call out to our WhatsApp social groups and those on our standy-by list at short notice.
Mrs Kumudben Pravinkumar Thanki – Sheetala Maa (1 murti)
Miss Vigna Modha & Umesh Joshi – Ramdevpir Maharaj (a group of 3 murtis)
Mrs Varsha Ravindra Modha – Vachhradaada (a group of 3 murtis)
Activities: Morning Aarti, Shanti mantra, Kalash pujan, Ganesh pujan, Murti pujan including changing of the garments and jewellery, mid day Aarti, satsang, bhojan, Yagna havan, changing of Dhwaja (protection flag), Maharaj blessing, Evening Aarti.
The Samaj donated £201 to Shree Hindu Temple for the Patotsav of Trikamjibapu's murti.
The yajmaans presented personal dakshinas to the Maharaj.
The monies from the Aarti plate and 'peti' (Donation box) were donated to the Mandir as per normal practice
Our promise: The yajmaans promised to continue to do sewa and support the Temple until the next patotsav. Additionally we committed to feed the animals and birds and support Goshalla in Leicester.
Bapu's vastra includes: Paghri, Khes, Shawl, and Mala (garland).
We would like to thank Pravinbhai Bhogaita for arranging the supply of Bapu's 'Vastra' and stock for the next 2 years. Our Bapu's paghri is tied in a unique way and sized to the murti. It is not readily available in the UK shops and had to be specially made and imported. We are hoping to learn how to tie this locally in future. If you are interested in learning this, please let us know and we will contact you. The cost of the Vastra was donated by Pravinbhai & Vanitaben Bhogaita.
During the Havan, each Samaj attendee was able to give 'Ahuti' or chant 'Swaha' either directly at the havan kund (in rotation) or from their seat.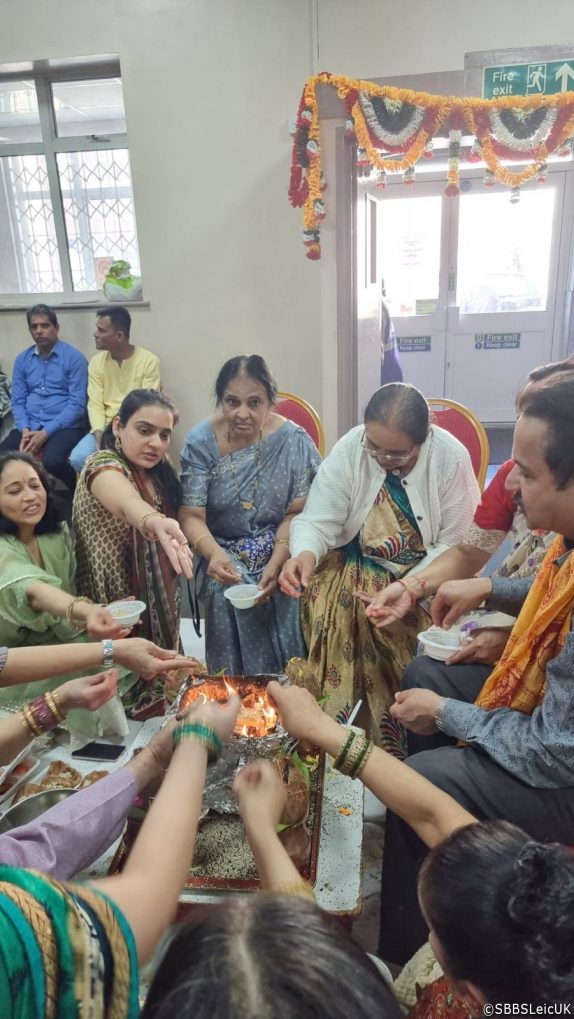 The Dhwaja change was sponsored by Mrs Savitriben Thaker independently, who is also our Samaj member. The new Dhwaja is a sign of protection of every visitor from all evil.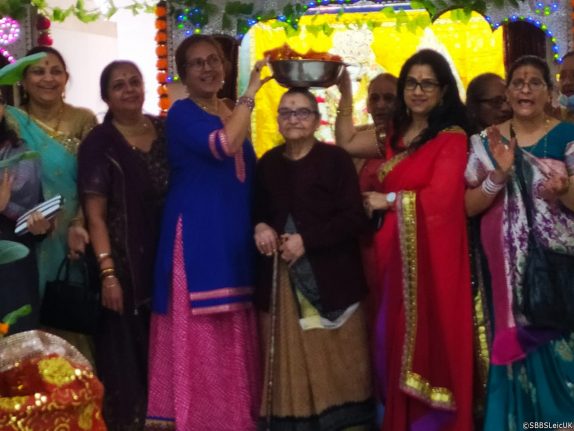 We will be participating in the Patotsav 2023. The main yajmaans currently listed for this are Mr & Mrs Jaybhai Modha (Jaykom – Northampton); Mr & Mrs Divyesh H Dave (Standby). There is always a requirement of yajmaans to be available as standby at short notice. Please register your interest if you would like to participate. (Preferable yajmaan is a married couple, however singles are acceptable as Standby at short notice).
We wish to thank all the attendees for their support and attendance. It was an awesome experience from start to finish, lots to do, learn and enjoy. We learned about the daily rituals and appreciated the hard work and dedication of Mandir staff and volunteers. Our Samaj welcomed baby Akash Akshay Joshi to the event. We would encourage families with young children to experience future Patotsav event and as Yajmaans. Our members also assisted with small tasks (Record of Attendees, directing people to available seats, take photos and videos for our gallery, assisting the yajmaans).
The Mandir was graced by the arrival of a 'Saint' (Bapu Jivan Bhagat of Bhagvati Anna Kshetra) who is scheduled to deliver a "Katha" recital this year. Further details are available from the Hindu Temple.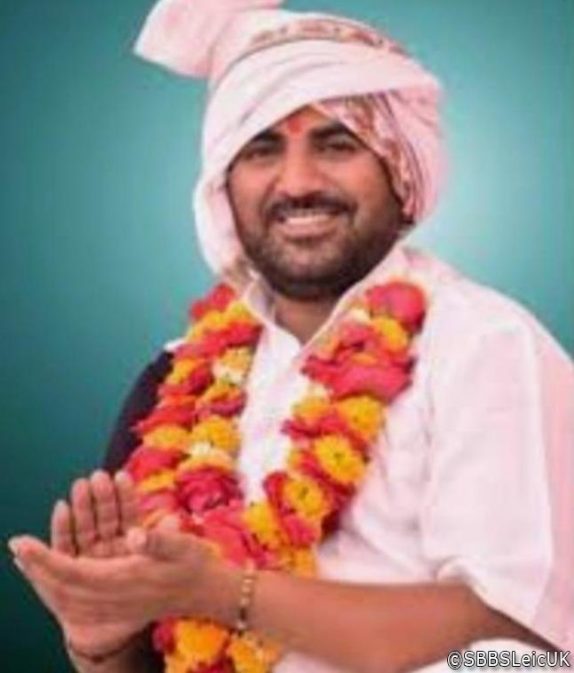 The Mandir welcomed all the prashad we offered (fresh whole fruits, dry fruits, sakar, mithai).
The Mandir was very clean and the atmosphere very friendly and welcoming. The Bhajan mandli chanted dhuns and prayers with love and adoration. A few visitors wore face masks on arrival.
The general feedback from the attendees was that of appreciation for the opportunity to do sewa.
For further information on participating in Patotsav – please contact us.
A big group photo of all the yajmaans will soon be shared on Shree Hindu Temple website.
See the Photo Album for this event by clicking here
Report by Varsha Modha, President, Sri Bardai Brahmin Samaj (Leicester) UK