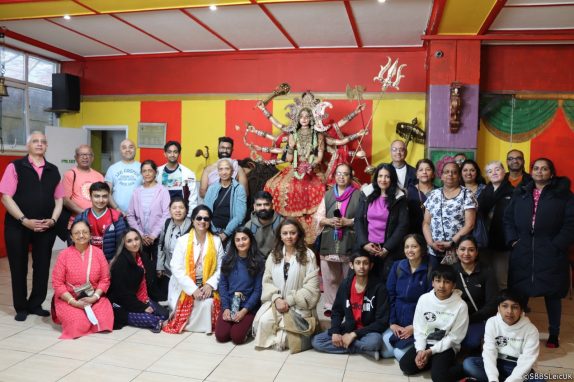 Date: Sunday 24.4.22 from 9am -12pm
Route: Shree Hindu Temple Evington, Mandir > Baba Balak Nath, Evington > Radha Krishna Temple Shyama Ashram, Highfields > Sanatan Mandir, Belgrave > BAPS Swaminarayan Temple, Belgrave > Shree Hanuman Temple, Belgrave > Sri Jeya Durga Temple, Belgrave > Swaminarayana Temple (ISSO), Belgrave > Haveli Shriji Dwar, Belgrave > Shakti Mandir, Belgrave > Ram Mandir, Belgrave > Leicester Shri Siva Murugan, Belgrave > Leicestershire Brahma Samaj Shivalaya Temple, Belgrave > Gayatri Pariwar Mandir, Belgrave.
Planning: The Sub-committee led by Umesh Joshi planned the route, drew the map and supplied the Sponsorship Forms and directions. They had made arrangements at each of the Mandirs and notified them of our visit to conform to the Covid guidelines and manage health and safety measures. 2 x patrol cars were arranged with emergency refreshments and first aid kits and these followed the walkers. Members chose to walk for 1 hour/2 hours/3 hours. Health and safety officers identified for this trip were Kaushik Vyas, Mayank Pandit, Pravinbhai Bhogaita and Varsha Modha. Prashad bhojan was arranged by the Gayatri Mandir.
The Sponsored Walk raised £528.50 for our Charity work.
See PDF of the route and sponsor form.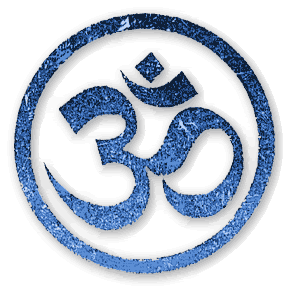 This was also an opportunity to dedicate the walk in honour of those who lost their lives during the Covid pandemic and pray for their souls to rest in peace with the prior consent of their family:
Mr Paresh Narbhshankar Pandit, Mr Rameshchandra Damodar Thanki, Mrs Indumati Mohanlal Pandit, Mr Mohanlal Pandit, Mr Bhimjibhai Devjibhai Joshi, Mr Rameshbhai Ranchodbhai Joshi, Mrs Pravinkumar Govindji Thanki, Mrs Dhanguriben Prabhashankar Bhogaita, Mrs Pramilaben Dolatrai Sthanakiya, Mr Ashok Naranji Modha, Mrs Hansaben Prafulbhai Sthankiya, Mr Harshavadan Madhavji Dave, Mr Ramesh Lalji Modha, Mr Ramniklal Naranji Modha. Respects were also paid to those affected by the Ukraine/Russia War.
The Samaj donated £151 to Gayatri Mandir in kindness for their service and warm welcome. Some of our Members also made additional voluntary donations to the Mandir and also throughout the Padhyatra in the aarti thalis and petis.
Who attended: Members of all ages (from 9 to 72 years), families with young children, anyone fit enough to take the challenge – 40 in total (10 people dropped out at the last minute). Some non-members also joined in support.
Volunteers: Harsh Ketan Thanki did warm up and cool down stretches. Mayank Pandit, Shantilalbhai Thanki and Kaushik Vyas as lead walkers from each meeting point. Photographs and videos were taken by several participants for our gallery. Dr Kishorchandra & Hansaben Thankey – to receive the group at Gayatri Mandir. All Committee members who attended assisted with admin. We thank everyone for their kind assistance.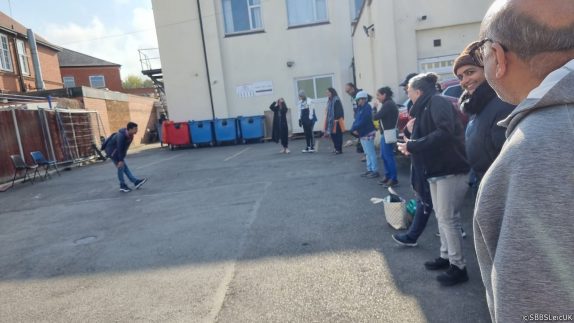 Highlights from the Padhyatra – members' views
Vigna Modha and Hershey Champaneri particularly enjoyed the guided tour of the Sri Jeya Durga Temple, a Tamil Temple and learned about the worshipping of the Planets and the different names given to our Hindu Gods/Goddesses. See the video of the abhishek of the Maharani Durga/Parvati. We were introduced to Bhairavnath, the protector of Sati (and all her avatars) and took a group photo in front of the life size statue of Durga Maa sitting on a Lion with a big mane.
Rupal & Josh Thanki – conducted the Abhishekh ceremony (bathing of the Lord before bhojan) at the BAPS Mandir under the guidance of the Maharaj – a unique experience. This was followed up by the rest of our group. BAPS internal architecture was brilliant and the atmosphere tranquil.
Haveli Shriji Dwar – has now erected a black stone wall feature in place of the original Govardhan Stone mound to facilitate puja rituals and to ensure the feature is easily identifiable. Hansaben Rajyaguru chanted Yamnaji ni prarthna on behalf of the group whilst the mandir sewak lady was making the flower garland for the deity.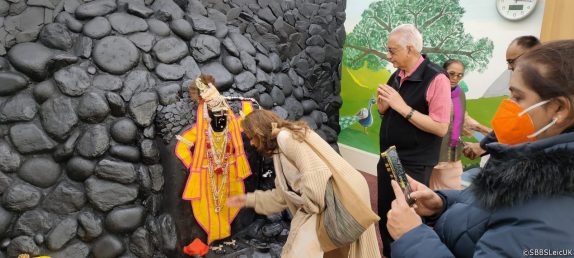 Shree Hanuman Temple had a "Sarangpur" Satsang event with Darshanaben Naker's Group singing Ram bhajans. Our kids were enchanted with the visual optics of Hanuman dada in this newest mandir. There was a touch-free electronic Hanuman Oil wash murti which one could operate by hovering their hand over the sensor. This would release a small stream of oil onto the murti for a few seconds and recycle it. This is the most hygienic way to do this puja and minimises any waste of precious oil.
Brahma Samaj Temple – the building has been vastly improved inside and out with outdoor benches and a private seating area. The Mandir offers its facilities to all events throughout the year.
Radha Krishna Temple Shyama Ashram – Anant Bhogaita recalled having a family Saptah event held here in 1980. This was the first Hindu Temple in Leicester; forerunner to the Shree Hindu Temple where our Trikamjibapu's murti now resides.
Mandir Baba Balak Nath – opened its doors to everyone with warmness. This is a small family run establishment led by a female priest and her sons. It is one of the oldest Mandirs serving all Hindus speaking various languages. A very popular mandir supported by the local community during special calendar events such as Janmashtmi, Diwali and always welcomes visitors for their 'langar' – prashad.
Sanatan Mandir – Hansaben Rajyaguru and friends had notified the Maharaj of our 'troop' being on the way to the Mandir and welcomed us to participate in the Aarti and puja of the Deities. Varsha Modha spoke of the Padhyatra trip and some of the members donated to our cause. The kids had the chance to identify the name of each of the Deities as well as Lord Vishwakarma – the Maha Architect. The Maharaj was kind enough to bless us with prashad and offered water.
Gayatri Pariwar Mandir – Kush Ravindra Modha – learned of the founders of the Gayatri Pariwar – an aged couple and their Guruji. Gayatri Pariwar encourages children to learn to write the Gayatri Mantra in a Script book in various languages. These books are kept for good luck and as evidence of the spread of the Gayatri Mantra in the world. Ashwinbhai and Pankajbhai Joshi (Bardais), gave an informative introduction of the life cycle and the secret of attaining inner happiness through the power of prayers and positivity. "Whatever we are searching is within our reach. We have everything we need to live a peaceful happy life. No need to go anywhere else or look anywhere else". The Mandir availed free information booklets, Gayatri Mantra scriptbooks, and leaflets. There is a library of books and music CDs available for sale. At the end of the talk, they served us with a freshly cooked hot prashad of khichdi, batetanu shaak, chhaash, sambharo and seero in the dining hall, served by volunteers. Ashwinbhai reached out to all Samaj members to contact the Mandir should they require their services.
Vaishali Joshi-Kaur commented that she didn't know that there were so many beautiful mandirs around Leicester she had never visited till now having lived in Leicester all her life and thanked the committee for organising this event.
Hansaben Rajyaguru completed her 1 hour walk ahead of the rest of the group. At each mandir, she recited a unique prarthna on behalf of our group and alerted the maharaj to expect our group shortly – just like Hanumanji alerting Sitaji that Shree Ramji's 'sena' (army) was on its way.
The Mandirs offered us prashad, water, abhishek and pranam of the deities, aarti, and some free booklets for which we were very grateful.
CLICK BELOW TO SEE VIDEO.
This article was compiled by Varsha Modha with input from the participants 25.4.2022