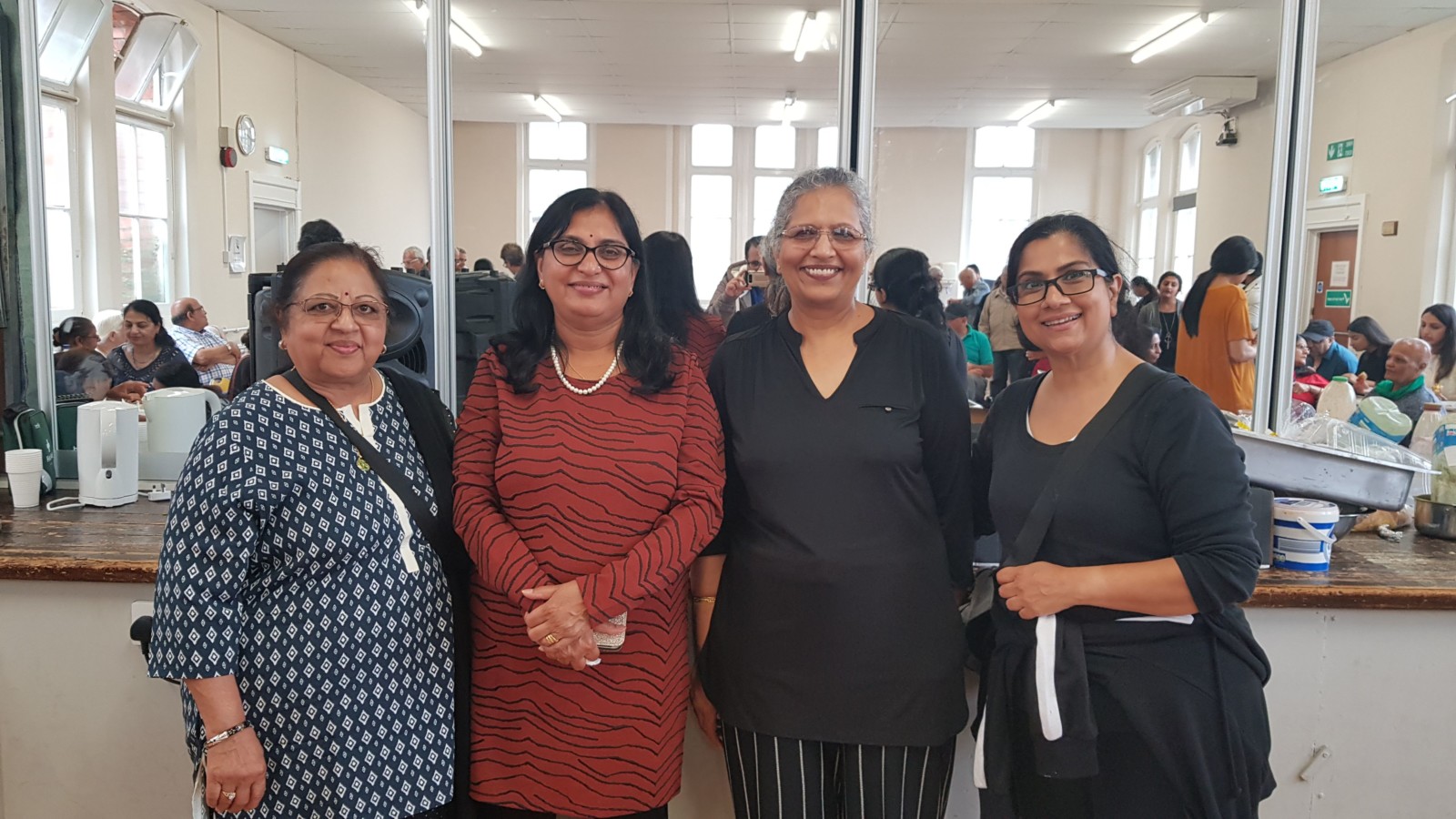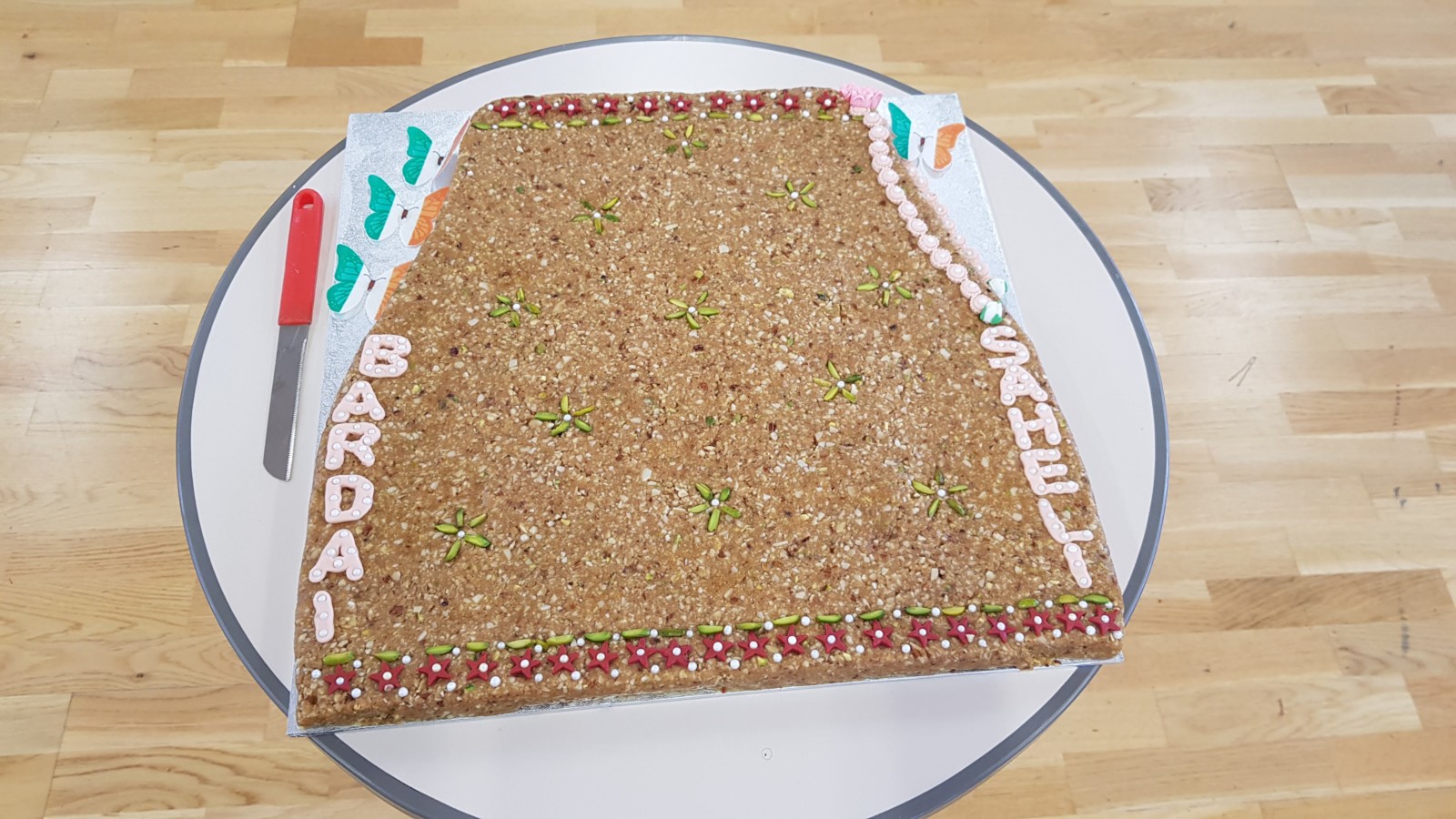 The original plan was to spend the day at Irchester Country Park playing grass games and climbing trees, but at 2 am on the morning of 28th, with the help of Rekhaben Bapodra and team, the venue and plans were changed due to a sudden change in weather conditions. Us Bardai's don't give up and with that spirit, all those who turned up from Leicester (53 to be precise), sang in the coach, all the way to Wellingborough. Ausden Clark's female driver remained on standby for an early return just in case. The new plan was as follows:
10.45am – Visit the Sanatan Mandir, Wellingborough. The coach dropped us around the corner from the Mandir and we began yet another 'padhyatra' as it was indeed, Ekadashi Agyaras. The Mandir Staff, Rekhaben and Dineshbhai Bapodra gave us a warm welcome. After the darshan of their annual Patutsav, a donation of £11 was registered by Varsha Modha on behalf of Leicester Samaj. The Maharaj recited bhajans and mantras happily and loudly which was enjoyable.
11.15am – Visit to BAPS Mandir, Wellingborough. Another warm welcome and we registered a donation of £11 on behalf of our Samaj. An eldely sewak issued us with an electronic receipt plus a box of token prashad and holy water for abhishekh – very impressive. Throughout the Mandir visits, everyone observed silence beautifully, especially all the children.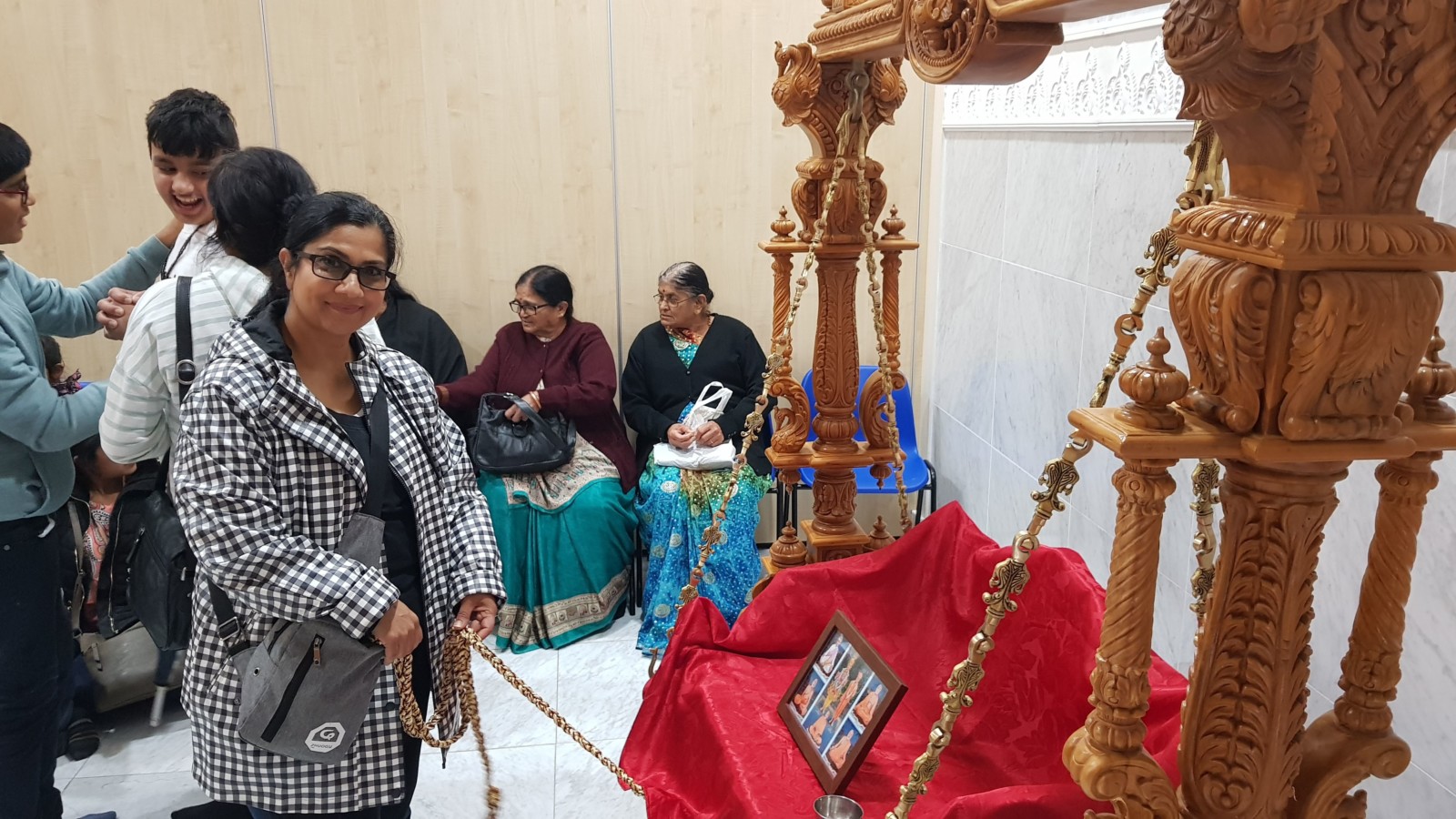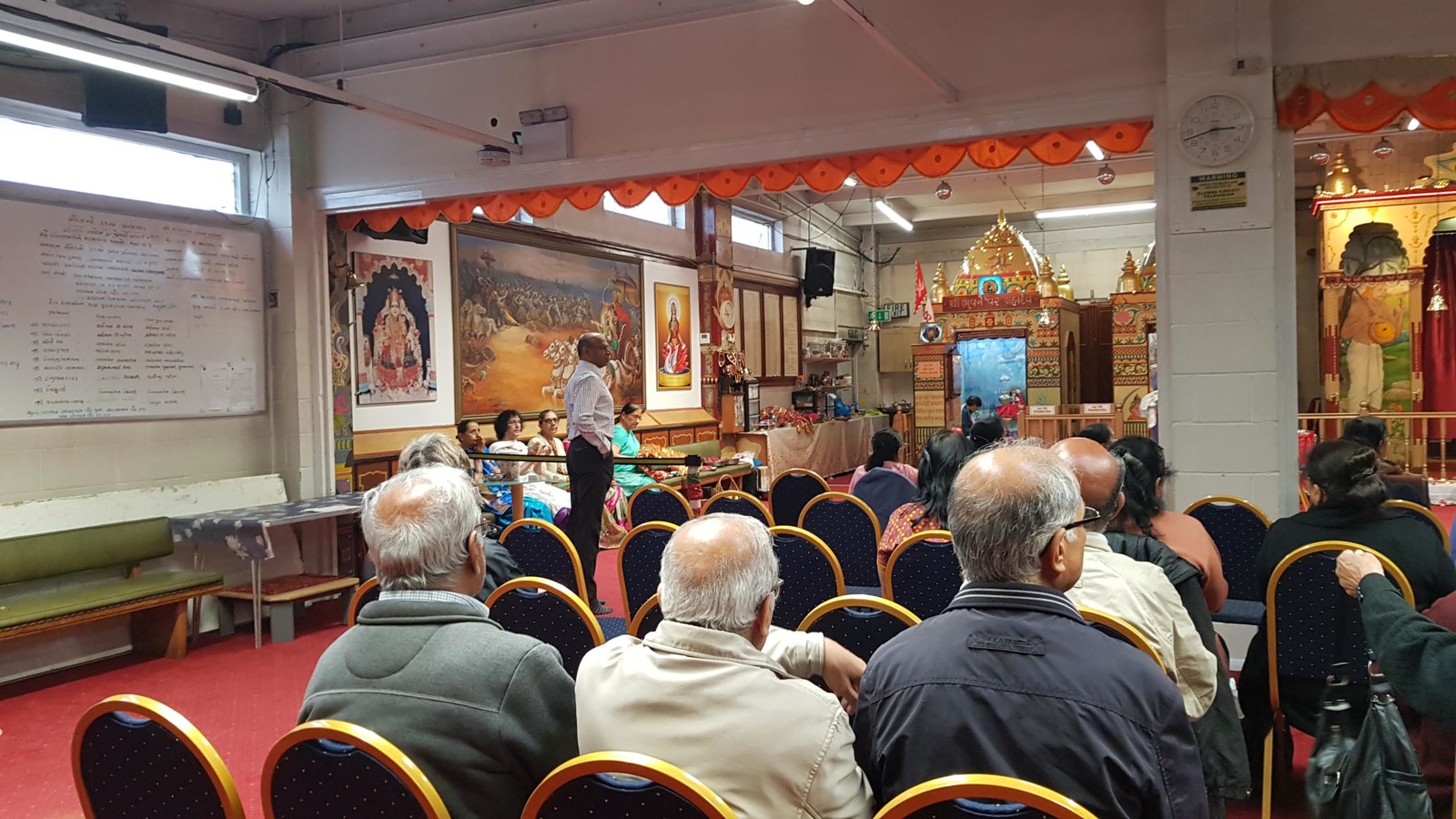 12.00pm – We met our picnic 'bandhus' at Victoria Centre (Community Centre) – round the corner from both the Mandirs – Padhyatra complete and fit steps clocked. Chai, thepla, biscuits, pinwheel wraps and snacks were served. Vigna Modha looked after the "Baccha party" who were so very well behaved and happy.
12.45-1.15pm – Musical Chairs for all with Vigna Modha as the DJ. The sound system was provided by members of the Saheli Group which were useful. There were joint winners of the children's competition while two ladies ran, "ghaghra lifted", for the winning chair of the adults round. Thankfully, there were no incidents to report.
1.15pm – Cake cut to celebrate 2nd year of Saheli Group activity. The cake was hand made by Rekhaben Bapodra of a biscuity base in the shape of a skirt and tasted delicious. Hansaben Rajyaguru jointly cut the cake on behalf of SBBS Leicester UK. A voluntary contribution was made by all attendees to share the unexpected venue and food cost for which everyone was thankful. This was followed by lunch with Bhel, Vada Pau, Batetawada, Chevro, chutneys, soft drinks (squash) and water. For Faraar, there was batetanu farari shaak, farari chevro, chutney – delish! All other food everyone had brought in to share was passed around the tables.
Other activities: Brow threading for ladies – all proceeds to go to charity.
Donate your old clothes to charity – these were collected to be sent to disadvantaged people in India – contact Rekhaben Bapodra if anyone is still interested.
All photos and videos are available to view on our website. www.bardaionline.com/gallery
2.45pm – Garba – See the video online and on our facebook page
3.30pm – Antakshari while children played garden games in the courtyard.
4.30pm – Return to Leicester. We did not leave early.
First Aid Box was fully stocked and available at all times. Thankfully, there were no reports of any Health and Safety issues throughout the trip. First Aiders: Varsha Modha, Radhika Joshi
There were 5 members who cancelled on the day due to the bad weather; 4 people took their place at short notice but the rest, had a jolly good time.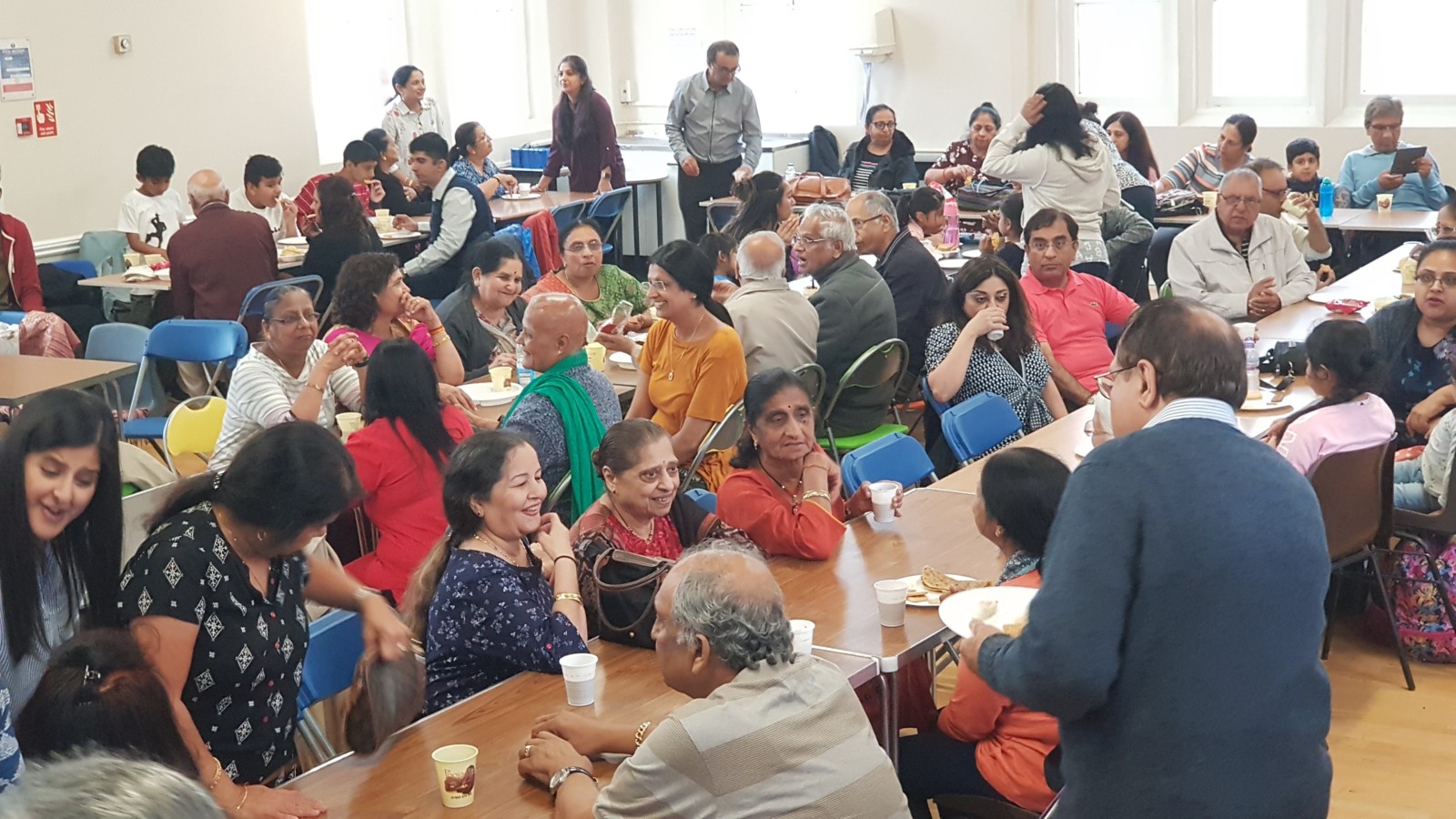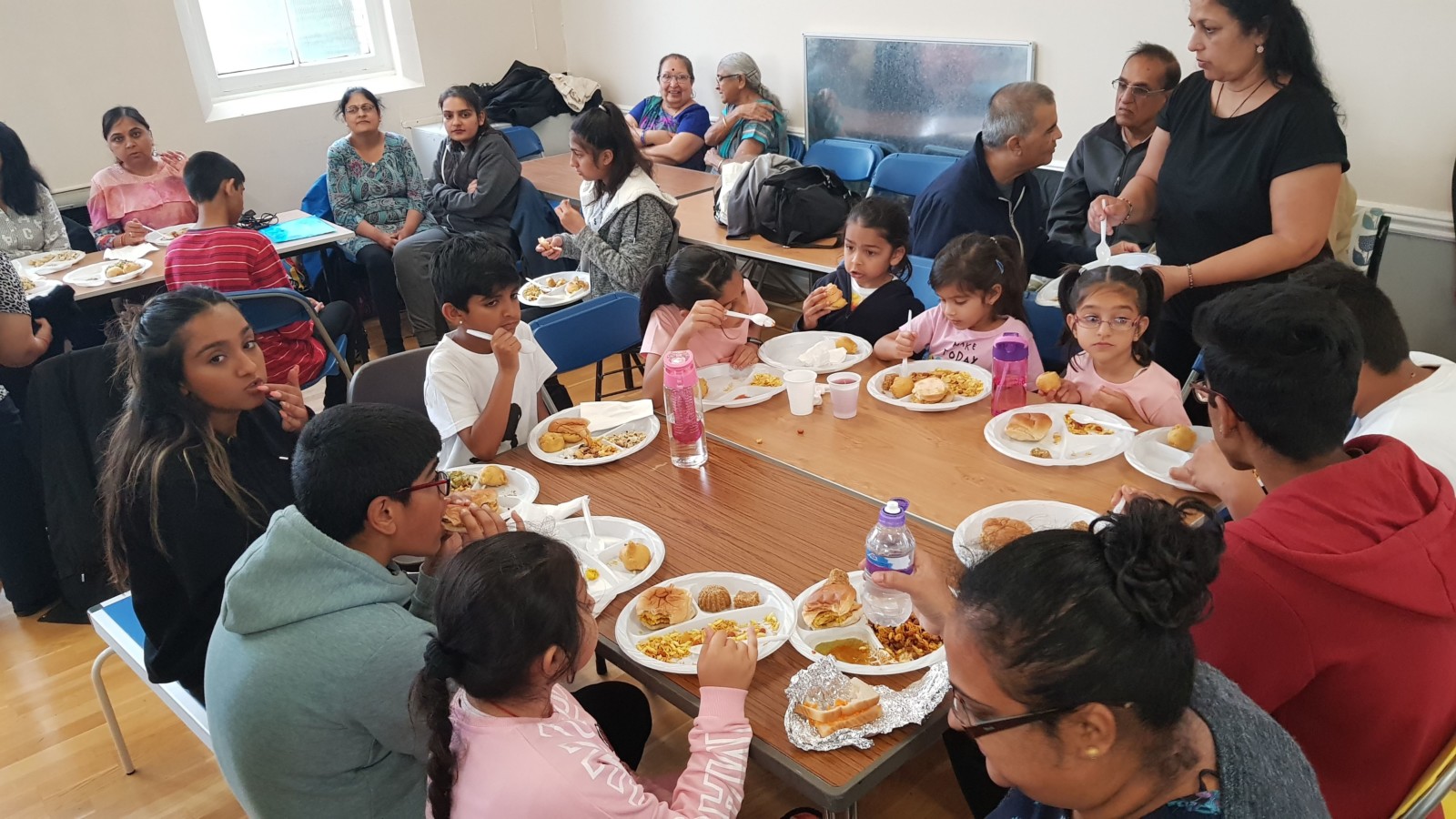 Appreciations:
Co-ordinators of Saheli Group and their families for hosting such a great event and arranging alternative picnic venue at short notice. Thanks for putting a smile on everyone's face;
Puja Caterers and their family for the food and the service throughout the day as well as clearing up at the end;
Victoria Centre Staff for accommodating us at short notice providing us with ample chairs, tables and the use of upstairs and downstairs halls;
Vigna Modha & Jay Bapodra for the musical entertainment and for ensuring the children had a great time;
Ausden Clark Coaches, Leicester for a very smooth journey there and back and for their support;
BAPS Mandir & Sanatan Mandir, Wellingborough staff for their warm welcome and prashad;
All our members for showing up despite the weather and making it a memorable event;
All those who volunteered on the day and during the preparation ahead of the trip.
We are looking forward to the next adventure.
Jai Trikumjibapu!
Report by Varsha Modha