By Varsha Modha and the Volunteers
News from the Ladies Group
The monthly Ladies Group sessions are continuing at Room no 7, Belgrave Neighborhood Centre.
Ladies group met on 5TH November 2016 for a Diwali Chai Party had 20+ attendance. Ladies agreed to meet at least once a month and recommended various ideas for future activities.
After a quick round of introductions, Shiv Purohit and his nani (Mrs Niruben Purohit) provided live musical entertainment which was very enjoyable.
The purpose of the gathering was to collect views and ideas from members for planning of future events: Day trips, craft activity, health & beauty tips, cooking tips, educational talks, yoga, stress relief techniques, were amongst a few. Creation of a wattsapp group was suggested to keep members in touch. Most agreed that BNC was a central & ideal location for meetings.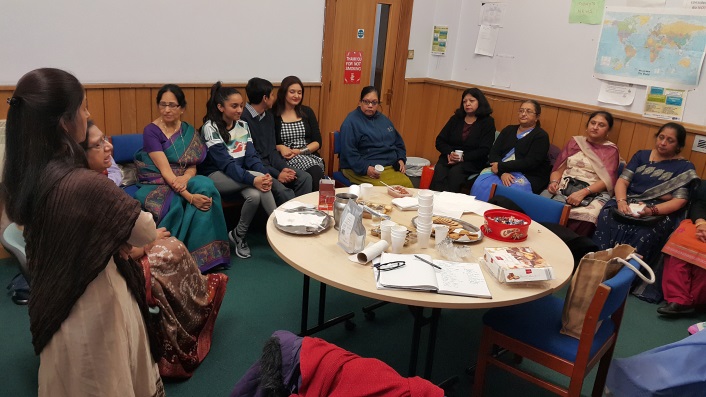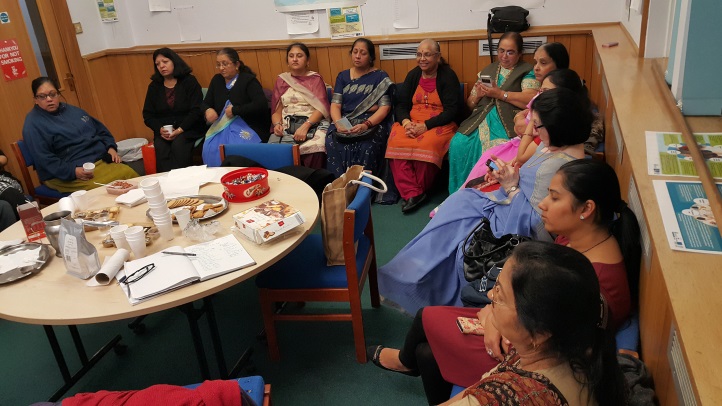 For further dates please or if you would like to attend, please contact
Hansaben N Rajyaguru and Ushaben R Modha
---

The 2017 Committee members are:
Sheetal Dave (President)
Varsha Modha (Hon. Sec.)
Vishal Dave (Asst Hon. Sec.)
Hiren Thanki (Treasurer)
Manish Joshi (Asst. Treasurer)
Dr Kishore Thankey, Bharat Modha, Kinjal Dave, Priti Dave, Manju Jani, Jignesh Pancholi, Yogesh Dave, Sonal Joshi, Kamlesh Joshi, Mayank Pandit.
We are really excited to work together and to take the Samaj forward into a new era of progress with your support.
Thank you to all the Volunteers who have helped out during the Samaj events in 2016.
Special thanks to Megha Thanki for the AGM performance/choreography; Vigna Modha and parents of Youth Club kids for managing the Kids' corner at the AGM. Thank you to Vinodbhai and Mannaben Dave for staging the Karaoke which was enjoyed by all. Thank you to the exiting Committee for your help in the handover process.
This is our Samaj, let's work together to take this forward into the new year with positivity and creativity.
If you are interested in volunteering or becoming a future Committee Member,
Please contact Secretary@bardaionline.com for more information.
JAI TRIKAMJI BAPU!
OCTOBER NEWSLETTER ERROR
Apologies for error in mentioning a Federation event at Hindu Mandir. To clarify, this event was in fact, held in January 2016 and its leaflets with Trikamji Bapu's photo were left on the Business Network Desk during Navratri for the public (in case they wished to keep the photo image). The leaflets were out of date. No further event has been planned by the Federation for 2017 as yet.Varsha Modha
SATSUNG MANDAL
If anyone is interested in holding a Satsang, please contact Hansaben Rajyaguru or Secretary@bardaionline.com.
We have space available at the Hindu Mandir, St Barnabas road subject to availability.
---

Business Network News
Samuh Laxmi & Ganesh Pujan held on 30.10.16 at Judgemeadow CC.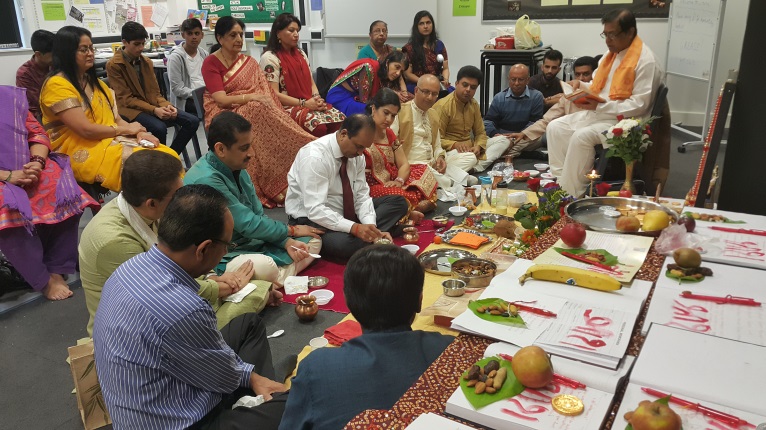 This was a huge success. It was recommended by many that took part that this be continued again in 2017 and be available to everyone to attend and participate.
Thank you to Business Network for making a donation which will help fund the cost of hosting the children's Christmas party this year.
During Navratri we had trouble projecting the business details as proposed due the seating arrangements which meant that the projectors & screens were facing the wrong way at Judgemeadow CC. We sincerely apologise for this. We then ensured that all business banners were displayed daily and leaflets available to everyone to which there was a good response from the public.
What next?
It has been proposed that businesses lend their support to our youngsters aged 14+ who may be looking at careers options. We can offer them careers advice, brief work experience or even a talk on your personal journey, help with formulating a CV. Many University applicants require 'extra curricular' activities or work experience to include on their application form.
If you can help, please let me know.
Any business wishing to market their product/service at a future event, please contact Kamal Joshi bn@bardaionline.com for further information.
---

Children's Christmas Party
Saturday 17th December 2016
Time: 5pm – 9.30pm
Venue: The Dining Hall, Judgemeadow Community College, MarydeneDrive, Leicester
Food: Pizza & Chips, soft drinks, Tea/coffee will be served. No Alcohol available. + "Please bring a snack dish/party food toshare" (this is a polite request)
Price : £5 per person (pay by 10.12.16)
Children under 3 years of age – Free
All non-Bardai friends of family will be charged £5 per person regardless of age.
Advance Pay and reserve your space via
www.bardaionline.com/pay/ to register your child and family members.
Last date to pay is Saturday 10th December '16. If you can't pay on line, please contact Varsha Modha a.s.a.p.
Dress Theme: Fancy Dress – dress up like your favourite film, Disney, Book character or wear your Christmas Jumper. Ladies can wear dress or non-Indian outfit if they wish. There will be a prize for the best dressed.
Entertainment:
Children's popular party games – with Varsha & Vigna Modha (Miming, pass the parcel etc)
Musical mayhem with Urvi Modha
Quiz for the 'Boffs' with Mitesh Thanki
Make yourself a colourful "mocktail" drink
Raffle Draw with Vishal Dave
Meet Santa's helpers
Meet our very own Santa who will give each child up to 12 years a present.
Photo with Santa
+ lots more fun!
Enquiries: Varsha Modha
YOUTH CLUB NEWS
We are currently seeking suitable venues to hold sports activities. Do register your interest should you wish to participate by email to Secretary@bardaionline.com
---
IF YOU HAVE ANY NEWS OR WISH TO SHARE A STORY OR TO POST AN ARTICLE, PLEASE LET US KNOW.