Happy New Year everyone. Wishing you all renewed energy and focus for the year ahead.
Youth Club News: Re-convened at Judgemeadow CC.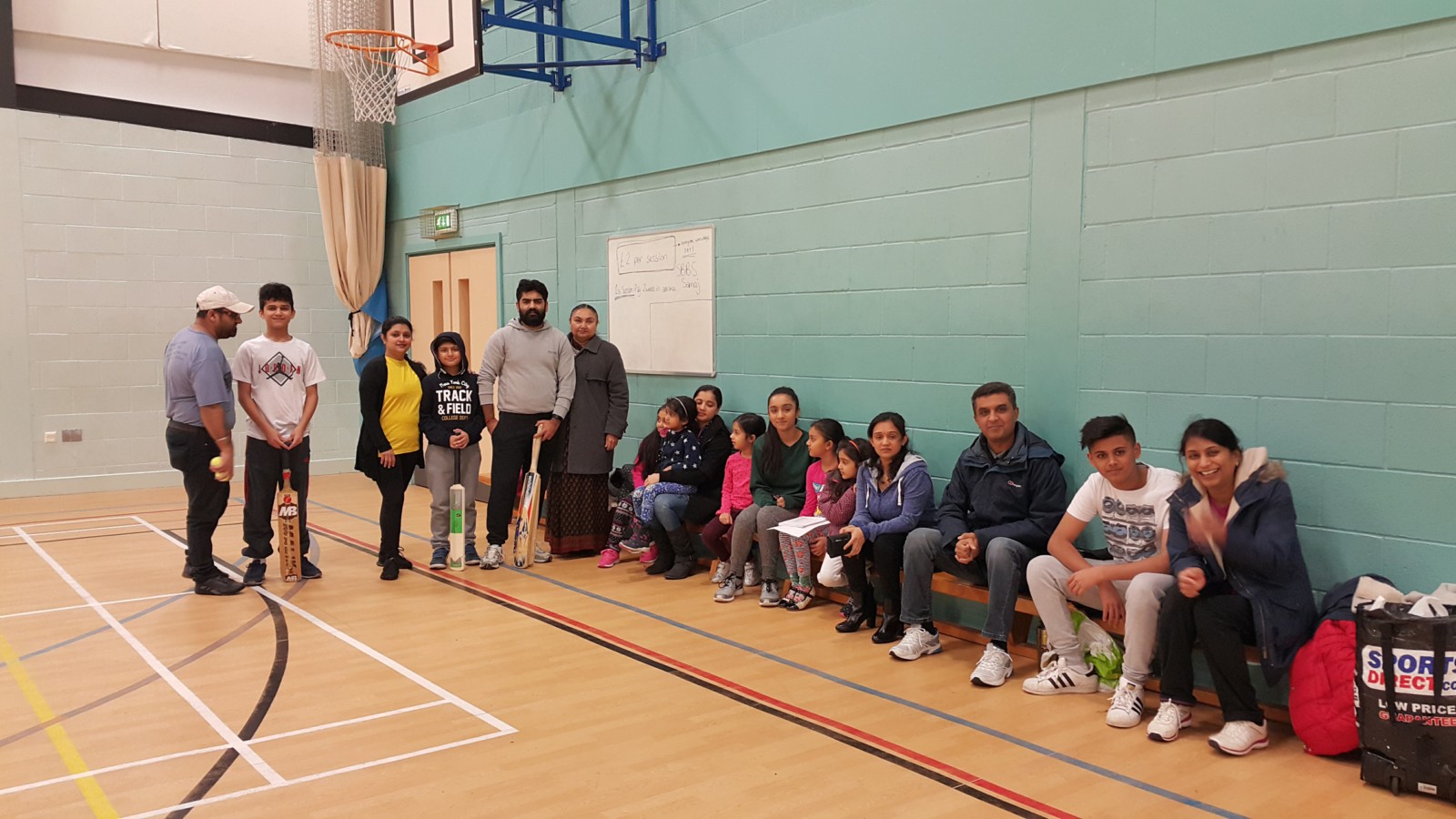 Co-ordinators: Ravi Dave (for age 12 years+), Rupal & Hashita Thanki for ages 0-12 years.
Activity: Indoor cricket, badminton, table tennis, football. Suitable for everyone, any ability.
Sports equipment supplied. Just bring yourself and a couple of friends.
Fee payable: £2 per player Aged 0-6 years = FREE
Venue: Judgemeadow Community College Sports Hall (rear access).
Time: 2pm-4pm (please don't be late).
Scheduled dates: Sundays 15.1.17; 29.1.17; 12.2.17; 26.2.17; 12.3.17; 26.3.17.
More sessions will be available if we have a good regular turnout.
---
LADIES GROUP NEWS (Co-ordinated by Hansaben Rajyaguru & Ushaben Modha)
---
Ladies group met on 7.1.17 at Belgrave Neighbourhood Centre.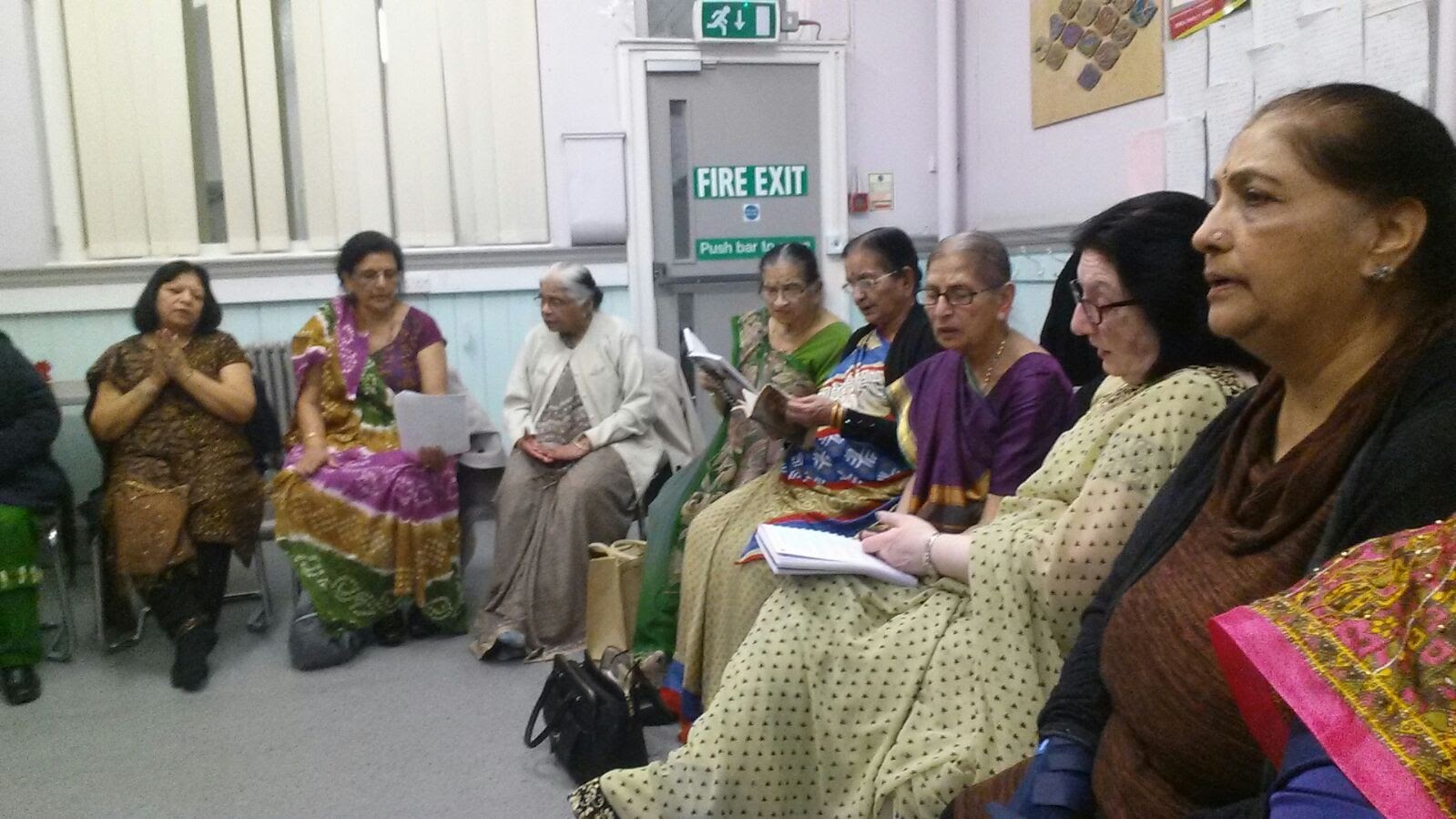 During the meeting the ladies also paid a tribute to Trikumji Bapu in honour of his birthday by singing bhajans and performing aarti.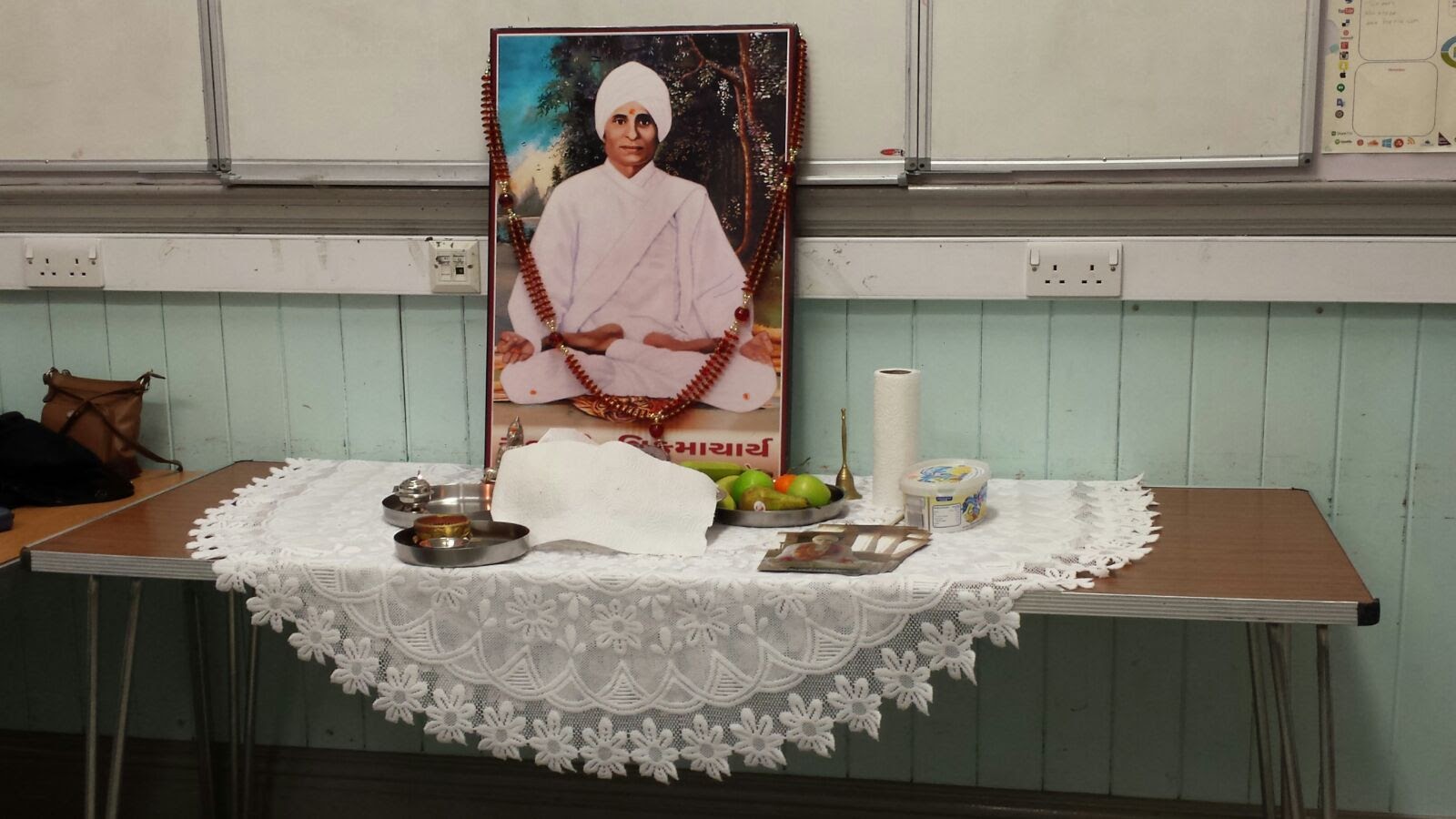 Next meeting is planned to take place on 11th February 2017 at 3-5pm
Venue: Belgrave Neighbourhood Centre, Rothley St, Belgrave, Leicester LE4 6LF
Activity: Keep-fit garba with a qualified instructor – suitable for all level of fitness.
Fee: £1 per person. Please bring family members and friends and let's enjoy getting fit.
What next? Ladies group are also planning day trips so please register your name and your telephone number when you come to the Keep-fit garba. Spectators are welcome too.
---
Committee News:
---
Well it has been a very busy few weeks as we have been planning Samaj events for 2017 (See Schedule below). We have also been reviewing some of our procedures to bring it up to date and to make it easier to follow. Our energetic team is committed to doing their bit so please give them a chance to prove themselves.
We meet regularly every 5-6 weeks. There is regular update from the Treasurer and Secretary on Samaj's operational matters. The committee discusses each Agenda item and makes group decisions, plan events, and disseminate tasks to the Sub-committees. Over time, we learn and develop independently as well as a Samaj group.
The sub-committee (of 5-6 committee members) manage and coordinate each event. so if something goes wrong, we all know who the 'tomatoes will be aimed at' haha..
RSVPs – In order that we can book venues, arrange catering and entertainment etc. we rely heavily on RSVP and would like to request everyone to please respond to this.
VOLUNTEERS We need you to help with small tasks on the day of an event e.g. Dining area duties, help with venue layout and clearing up, health & safety monitoring, Information Desk duties, Guides etc. This is also a great opportunity for youngsters to get involved and be proactive within the Samaj. You can speak of this experience on e.g. your c.v./your job/college/university application form. Please register your name on our official list of approved Volunteers.
TEA & BISCUITS – we have no time for this because we have so much to say at meetings!
NEWSLETTERS – we will aim to produce these each month. These will be emailed and posted on bardaionline website. NEWS ARTICLES – Are you a keen writer? Please share your news, reviews and tips on the Samaj Newsletter by emailing us. Let us know if you are celebrating a milestone in life and send us a photo.
REGISTER YOUR EMAIL ADDRESS: Our preferred method of communication is by email for speed. Please register/update email address for each member of the family so that you can keep up to date with news and events. Let us know if you need help to set up your email account. Please kindly discuss/pass on details of our emails (and translate if necessary) to the elderly in case they are not receiving them. We can send out paper copies on request but postage may be slightly delayed.
INTERESTED IN JOINING THE 2018 COMMITTEE??? – A chance to Learn the ropes; Contribute your time and expertise to the Society; Develop your skills and Succeed in Life, make new friends and develop network opportunities. This is a worthwhile experience for anyone who can dedicate some time to the Charity.
---
Dates for your 2017 diary – events planned so far
---
Sat 25th February, 5.30-9pm – Maha Shivratri Bhajans and Prashad
At St Patrick's Church Centre, 100 Beaumont Leys Lane, Leicester LE4 2BD
Sun 12th March , 2-4pm – Holi – Dhuneti – Fun & play with holi colours
At Rendel Park, opp. Cossington Sports Hall, Rendell Rd, Belgrave, LE4
Fee: £to be decided to cover the cost of providing holi colours.
May 2017 – Health Awareness Day – date yet to be decided and event to be organised
July 2017 – Summer outing/ Day Trip – date not set and event yet to be arranged
Sun 13th August 1-6pm – Janmashtmi Programme – in progress
At St Patrick's Church Centre, 100 Beaumont Leys Lane, Leicester LE4 2BD
Thu 21- Fri 29 September – Navratri Programme – more details to follow
Sat 30th September – Dusheira Raas Garba – more details to follow
Sat 7th October – Sharad Purnima Raas Garba – more details to follow
19th October – Diwali – Chopda Pujan – to be arranged
4th November – Diwali Samelan & AGM – to be arranged
December – London Trip to see the Christmas decoration, Lighting & Winter wonderland – to be arranged
December – Christmas Party – to be arranged
January 2018 – Trikumji Bapu's birthday celebration with Bhavesh Joshi & group from London Samaj
Please support the Samaj by participating in the events. We will try to keep the events affordable to everyone. Please feel free to make any additional voluntary contribution on the day should you feel that the event was enjoyable, educational and valuable to the Community. Thank you.
For all enquiries email. Secretary@bardaionline.com