Fellow Bardai Brahmin and GP Dr Nalini Jitendra Modha from Peterborough (UK) recently received an MBE (Member of the British Empire) for her work in healthcare.
Dr Modha received the award for her services to the NHS and to General Practice, and developing Thistlemoor Surgery (Peterborough). The surgery has mushroomed from caring for 700 patients to the current 30,000 patients on it's list. She pioneered the concept of healthcare assistants (Nurses, Paramedics and Pharmacists) to General Practice and also working to extend the scope of what nurses and other healthcare professionals can do in General Practice. She has also worked along with the Police for nearly a decade to help victims of sexual exploitation, and domestic and child abuse.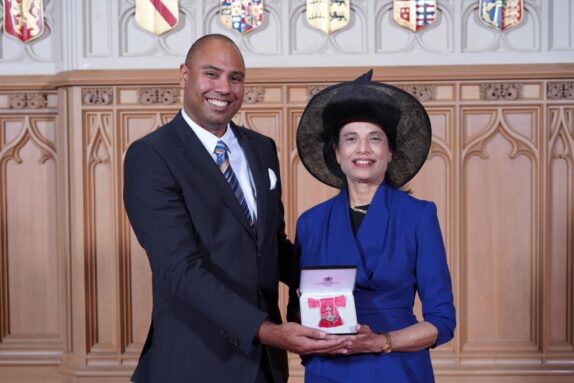 Dr Modha, who was accompanied to Windsor Castle by her son Neil, received news of the award in the Queen's 2019 New Years Honours List. HRH Princess Ann, daughter of Queen Elizabeth II, presented the award.
She said: "Serving our local community is an absolute privilege. I am now focused alongside my husband Jitendra, son Neil and the team at Thistlemoor Surgery in thinking about how we can continue to make a difference for our Peterborough community. The concept of training and developing healthcare assistants from the community they serve is simple, but has led to a far better way for us to communicate with our patients and serve their needs. Some of the HCAs (Healthcare Assistants) have gone on to become nurses, doctors and other allied professionals. I am very proud to have pushed the boundaries on what nurses can do for patients and am proud that these new ways of working are now so common in General Practice across the country."
Their journey began when Dr Nalini Modha and her husband, Dr Jitendra Modha, were first introduced to the concept of multi-skilled working in General Practice when visiting Hospitals in America when her father was ill. They went to Boston (USA) to collect the text book and course material to adopt and design a similar way of working suitable for the UK.
Since the year 2000, nearly 300 healthcare assistants and nurses have been trained at their surgery, with extended roles using in-house training programs. Some of these staff have gone on to become nurses and doctors.
The surgery became a showcase for UK patients in primary care and, following a number of roadshows led by Dr Modha, the NHS implemented this model of healthcare. Healthcare assistants and nurses performing extended roles in general practice is common now, but these roles didn't exist 20 years ago.
Our Samaj congratulates Dr Nalini Modha on receiving her prestigious MBE award, and for being such an inspiration.