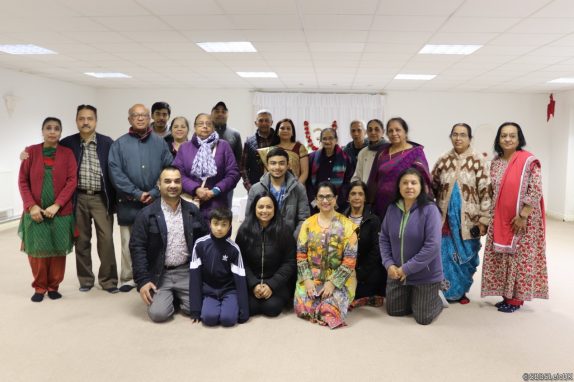 Video below.
At the Patotsav 2022, the yajmaans made 3 sankalps:
To follow our Guruji's teachings and the rituals of our dharma throughout the year.
Padhyatra – To honour and support the Mandirs and Charities.
Gau sewa – saving the environment.
A Sankalp or Sankalpa is a short phrase or sentence, clearly and concisely expressed, to bring about a positive change in one's life.
Due to the Goshalla in Leicester premises being under renovation, it was not possible to arrange a large group visit for health and safety reasons. Hence this was attended by The Yajmaans and Samaj volunteers. The group was welcomed by Mayuriben and Nileshbhai Shah, the Goshalla managers. A short puja of the Gaumatas, Radha and Rukhmani, and darshan of the calves Mahadev and Nandi was facilitated to the group. During the puja, we were able to touch the Gaumatas under supervision, the rituals explained, feed the Gaumatas and the calves, and perform an Aarti. Nileshbhai did a brief tour of the new shelter building and the area of construction. The group then proceeded to the Satsang room where Mayuriben explained the purpose and benefits of the Gau sewa rituals according to the Hindu culture and the relevance of gau pujan during Gopashtmi and dharti pujan ceremony during Adhik Mas. Mayuriben also explained their journey to setting up a Goshalla in Leicester and gave a brief progress report on their work so far.
Click on Video below to view.

Members participated in the satsang, prayers and garba at the end and a Donation Cheque of £251 was presented on behalf of our Samaj to the Goshalla which was topped up with donations from individuals.
The general feedback was that of appreciation of the Committee's initiative and the Goshalla's warm welcome. Individual feedback was :
thoroughly informative, enjoyed the experience. Didn't know there was a Goshalla in Leicester. So grateful for the opportunity to visit and do Gau puja.
some interesting stories were shared from our scriptures about Gau sewa, gopis, Radhe-Krishna. This was great for the children, the Gaumata were calm and well fed and looked after. Didn't realise this place existed and recommended another visit.
the Satsang was very enjoyable. We loved it so much, we have arranged a follow up visit.
Great work of the Goshalla.
Definitely worth another visit.
They need our support and great service for those who want to do Gau sewa.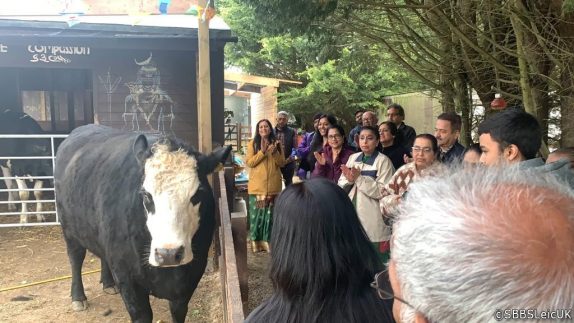 All the Videos and Photos were taken by our Samaj members.
Useful Links
This article was composed by Varsha Modha with input from the attendees. 2.5.2022