Teenagers – coping through the Lockdown.
A review of popular available online games by Kush Ravindra Modha from the Samaj Youth Club.
There is a misconception amongst elder family members that playing online games is a bad habit and a waste of time. Some say it defines a lazy, negative character. Well, think again…
At school, we are taught to use digital equipment on a daily basis safely and encouraged to explore our potential through some online games. In fact, gaming and Computer game developer/designer is a new career for talented, imaginative, creative individuals. I remember playing my first game. It was Minecraft on my Xbox 360. With parental support, I was soon to acquire my first Xbox. This liberated me. I was a shy boy but through playing these games, it increased my self-esteem and I learned to express myself better. It's not about sharing your secrets with anyone but an opportunity to channel your energy in playing the game.
During the lockdown, everyone's bored and scared. Lockdown is a new experience for children. Being in quarantine is different from the normal routine and the parents' anxiety often transfers to the children which is stressing. So what to do?
My advice is to invest your time in a creative activity. It could be art, exercise, craftwork, building projects or playing online video games.
Gaming – boosts your creativity, imagination, helps broaden your perspective and your awareness of the environment.
Most popular games are Fifa football and shooting games. Other games are for entertainment or provide stress relief during difficult times. Some of the games are based on Lore (folklore – myths and legends) and others are based on factual information from History.
There is a car racing game called Forza which allows you to explore different cities e.g. Colorado, Outback of Australia, Scotland, Nice (France) whilst driving. The graphics are taken from real places. You can be exploring the world from the comfort and safety of your own home and without a Driver's Licence!! This game has inspired me to go and visit the featured sites.
Kingdom Hearts (streamed) A story-based game using well known Disney + Pixar stories characters. It is suitable for Age group 7+ years for boys and girls. Follow a story and take action when prompted to do so. There is good soothing background music which I have added to my relaxation playlist to listen to sometimes as it is calming too. This game will appeal to children who enjoy watching Disney stories. The objective of the game is to help the good fight against the evil characters. It helps to teach the children to learn the difference between good and bad, heroes and demons and instils strong moral views in a person.
To check availability of these games, go to Microsoft Store or Playstation Store.
Also from www.cdkeys.com, Amazon, Game.co.uk, Argos etc.
I like the Assassin's Creed series. Suitable for teenagers with parental consent. These are 'Open World Games' where you can explore the world and different periods of time such as Colonial America, Egyptians, Greeks, Industrial Revolution England, etc. In secondary education, this is very useful. The aim of the game is to follow the story and then take part in the challenge/quest as one of the characters in the story. These games have taught me about World History from Ancient, past to present day; how I view the world and I interpret the History of the World. The graphics helped me to understand and visualise the buildings, geography, the terrain and lifestyle of the characters in that era. The artistry in the scenery is awe-inspiring and worthy of praise. It's an escape but educational as well. It's a break from the crisis we are experiencing and a way to explore a different world.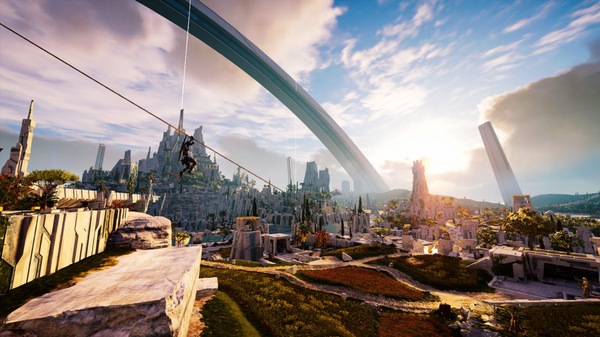 It helped me to understand History, Geography, Geology, Languages/terminology. Helps one to understand the famous historical figures often referenced in Schoolwork e.g. Charles Dickens, Karl Marx, Socrates, Pythagoras, Julius Caesar, Cleopatra, Queen Victoria, Borgia family (Italy), Benjamin Franklin, George Washington, Charles Darwin, Napoleon Bonaparte, Leonardo de Vinci, Florence Nightingale.
It helped me to understand the timeline of history, visualise the stories and what it was like to be living in that time zone as a lead character. It also helped me to break down a person's character and comprehend what they may be feeling and thinking. It helped me to analyse the strategies used in war and different points of view. The games also introduced new sports like archery, horse riding and martial arts.
You can see how the natives were treated during the colonisation of America.
How the slaves were treated during the times of Egypt & Pharaohs.
The effect of Wars between Athens and Sparta and between Greece & Persia.
The effect of the Industrial Revolution and the difference between the rich and the poor.
The Plague.
Assassin's Creed 1 – Crusades
Assassin's Creed 2 – Italian Renaissance
Assassin's Creed Brotherhood – set in Rome the Borgia family
Assassin's Creed Revelations – The War for Constantinople (Crusade)
Assassin's Creed 3 -The Colonisation of America (Slave Trade)
Assassin's Creed Black Flag – The Seven-year War – The Golden of Piracy in the Caribbean (Slave Trade)
Assassin's Creed Rogue – During the Seven-year War – Continued The war of the conquests = the Empires (British, French etc) (Slave Trade)
Assassin's Creed Unity – The French Revolution
Assassin's Creed Syndicate – Industrial Revolution (British)
Assassin's Creed Origins – The Egyptians and Pharaohs (Ptolemaic dynasty) (Slavery) + (Romans – Julius Caesar/Cleopatra partnership)
Assassin's Creed Odyssey – The Greeks (Peloponnesian wars – between Sparta & Athens, the Delian league is about the invasion of Greece by Persians).
Assassin's Creed Valhalla (Coming soon) – The Norse (Vikings) and the invasion of England.
Cost from £1.49 online from www.cdkeys.com dependent on your equipment.
Also available from Amazon, Game, Microsoft Store, Playstation Store etc.
I hope you enjoy playing these games as well as I do and learn about the world at the same time. We're all in the same boat and we'll get through this together.
Next Lockdown Story – Vanisha Anant Bhogaita