Vanisha Anant Bhogaita, a Music Student at The Academy of Contemporary Music (ACM) in London has been recording Bollywood and Bhajan tracks during the lockdown.
Here we showcase two of her projects done during lockdown.
Filhaal – released 16th April, 2020
Hanuman Chalisa (cover version of original by Bhavini Vyas on the Sattva App)- released 9th May, 2020.
During the lockdown, she will also be using her passion for music, spirituality and yoga to host a series of live Music and Meditation sessions on Facebook and Instagram on Thursdays starting 7th May 2020, at 5pm (British Summer Time).
"So..this is happening. I've been way too shy this whole time and kept coming up with all sorts of excuses. But after getting quite a few pushes from people, I finally decided to drop the fear and give it a go! Would love for you to join me from this Thursday 7th May, 2020 at 5pm for a jam and some breathing..lets see what happens!
Follow my Facebook page: Vanisha for the sessions or to watch on instagram: @VanishaMusic!" –Vanisha Bhogaita.
Click the image below to view her Facebook Page.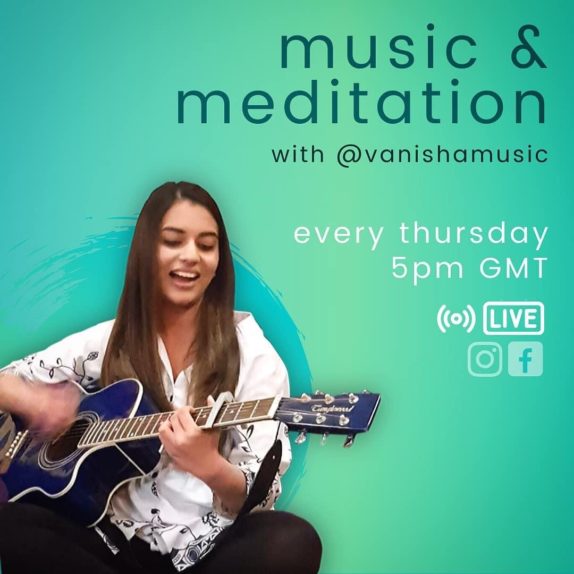 Vanisha's Social media links:
Next Lockdown Story – Chandrakant Hirji Bhogaita